Ahmedabad News
10 Ahmedabad containment zones see sharp drop in Covid-19 cases
AHMEDABAD: Gujarat in 24 hours ending 5 pm on Friday recorded 495 Covid-19 cases, taking the tally to 22,562. The cases included 327 from Ahmedabad, 77 from Surat, 37 from Vadodara and seven from Mehsana. With the cases, the tally of Ahmedabad district reached 15,962.
The state recorded the death of 31 Covid-19 patients, taking the toll to 1,416. The deaths included 22 from Ahmedabad, three from Surat, two from Gandhinagar and one each from Aravalli, Patan and Bharuch.
Gujarat recorded the first death in 'other states' category on Friday where the patient was not a domicile of Gujarat. With the deaths, Ahmedabad's death toll is now 1,139, which is 80.4% of Gujarat's total deaths.
However, there is a silver lining amidst the deathly Covid gloom in Ahmedabad. The 10 major Covid-19 containment zones of the city have recorded a sharp decline in Covid cases over the past weeks. The areas, concentrated in the central zone, had recorded a peak of 1,082 cases between April 27 and May 3, which dipped 65% to 376 cases in the week between June 1 and 7.
"Strict containment strategy and aggressive campaign of fever OPDs focusing on worst affected areas has paid off as cases are steadily declining. Over two lakh OPDs have taken place distributing prophylactic medication that has helped contain the viral spread in these areas," said Dr Rajiv Gupta, officer incharge of Covid control in Ahmedabad.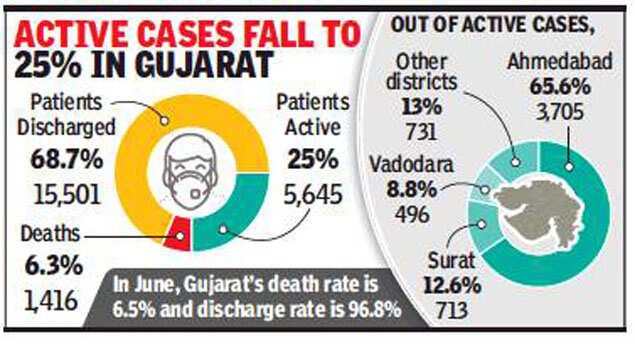 Top sources in the Ahmedabad Municipal Corporation (AMC) said data has revealed that in the intervening four weeks between May 3 and June 1, cases in the containment zones gradually went down to 927, 1005, 505 and 429 respectively. In four days from June 8-11, only 186 new cases have been registered.
These areas include Jamalpur, Khadia, Dariyapur, Asarwa , Shahpur, Saraspur, which are clubbed under municipal central zone and Gomtipur, Danilimda, Behrampura and Maninagar under the municipal south zone.
Experts say that samples have been sent from containment areas to test for prevalence of herd immunity as part of a national study.
300 samples taken from containment areas in city
Recently 300 samples from the containment areas of Ahmedabad were collected, over time, as part of the nationwide Covid-19 seroprevalence study and sent to Indian council of medical research (ICMR) to test whether herd immunity has taken precedence in these 10 containment zones. The results will be declared in a few weeks," a senior medical officer said.
"What is noteworthy is that the number of cases in the last week has come down to single digit numbers for Jamalpur and Shahpur which were among the worst hit areas during the earlier month," claimed another senior state official. Medical fraternity said that the panic has gone down considerably in affected areas as local clinics have started functioning. "People are mentally ready to deal with the pandemic. However, it is difficult to say whether Covid-19 cases have gone down due to herd immunity or less screening," Dr Zakir Shaikh, Jamalpur Doctors' Association.