Ahmedabad News
Ahmedabad: Coronavirus bio-waste disposal costs Rs 45/kg
AHMEDABAD: Household waste can bring a change in the kitchen, but hospitals are working again under the high cost of disposing of bio-waste in times of Covid epidemics. The cost of collection and disposal of biomedical waste (BW), which was Rs 24 per kg pre-lockdown, shot up to Rs 50 for Covid-19 waste during the lockdown. After June 3, it fell one notch at Rs 45 per kg, which is still almost double, citing Covid's high contagion risk.
What's more, hospitals are being charged an additional Rs 500 per trip for the collection of Covid BWs, a transportation fee that was non-existent in pre-Covid times. During the lockdown, the transportation cost was Rs 750.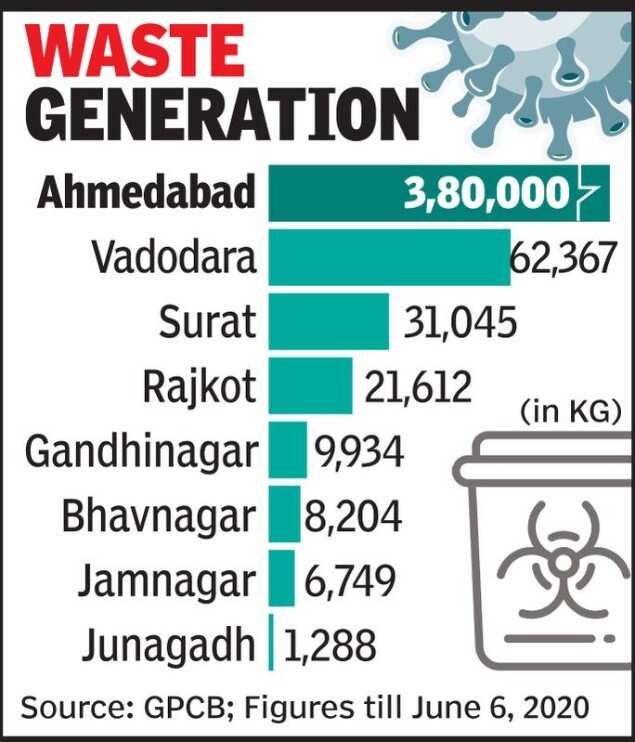 A designated representative of Apollo Hospital, a designated Covid Hospital, said that its daily Covid-19BW varies between 150-180 kg. "The hospital costs an average of Rs 9,000 per day. This is a requirement as it should not be deposited," said an official.
In HCG, daily generated BW adds 100–120 kg of weight, an official said. "With PPEs and regular hygiene, disposal of BW is a major overhead for any hospital with Covid-19 patients," the official said.
'contagiousness Caused 100% increase in cost '
Those in the medical waste disposal business say the cost has increased by 100% because covid-waste is highly contagious and requires a percentage point. Kanu Patel, owner of a major BW processing firm in Ahmedabad, disposed of the waste of 10 large hospitals, saying: "Normal BW – which is predominantly dry – has 60% of the component that needs to be consumed while the rest of the waste Can be processed in other ways." Covid-19 waste requires 100% incineration that includes leftovers. It requires frequent cleaning of incinerators, "he said.
Vinod Kachhadia, the national president of the association, said, "PPE kits consume large quantities of vehicles and make large quantities of items for disposal. Previously a trip had 320 kilograms of BW. But now a trip is only 150-kilograms. Weighs. " Of Common Biomedical Waste Treatment Facilities (CBWTF)." These vehicles also require regular hygiene and we cannot use it for any other purpose. Thus, overheads are increased."
Gujarat Pollution Control Board (GPCB) officials said that between March 23 and June 6, 20 operational BW disposal facilities in Gujarat processed about 5.8 lakh kg (580 tonnes) of BW. Gujarat today has the largest number of BW disposal facilities, he said. Ahmedabad topped with 65% of total waste or around 3.8 lakh (380 tonnes) disposal of BW.