Ahmedabad
Dear Gujarat govt, how do we get tested now?
COVID-19 BEDS Private Hospital Race
The revised testing policy of the Government of Gujarat, which makes it mandatory for hospitalization of Covid suspects, if they want to be tested, is under tremendous pressure on private hospitals, which are forced to divert. The patients Away or waiting for them
Gujarat stands tall on the unrecognized list of states with high Covid-19 mortality. While the citizens thought that Gujarat's revised test rules would allow them to protect their own lives without hindrance, it seems that the state's Covid-19 policy may have leaped from fry to fire.
The government revised the testing policy on June 2, making it impossible to test Covid-19 suspects without being hospitalized. Four days later, several private hospitals in Ahmedabad are complaining that their Covid-19 ward has gone out of bed and they are asked to refuse patients or wait for admission.
In such a situation, there is no way that ordinary citizens can test themselves Coronavirus. Doctors warned that the revised testing rules would only worsen the Covid-19 situation in Gujarat.

The AMA is considering going to the HC again regarding the issue
Ahmedabad Medical Association (AMA) and the Ahmedabad Hospitals and Nursing Homes Association (AHNA) state that Ahmedabad does not have enough Covid beds, a coronovirus hotspot, and testing policy that requires mandatory hospitalization of suspects, affecting the healthcare system Will do.
The Mirror spoke to the heads of major private hospitals in the city Covid facilities. At SAL Hospital, officials said that all 72 Covid beds are occupied. SAL Medical Director dr Harsh Parikh Said, "We are sending back at least 10 patients per day and others we are not even aware of. There are patients who are recommended by our consultants, but once we refuse them, they do not recommend other patients either, so we will never know how many patients can be admitted. "
Asked if the hospital could provide more beds for Covid's treatment, he said, "We are empowered under the MAA scheme and hence non-Covid patients have started coming in. If we give our bets to Covid then How will we be able to accommodate them. Patients? We need two OTs for non-Covid patients as well as ventilators. "The administrator said that Sanjivani has 22 beds out of 24. Out of the 45 beds of Apollo Hospital 33 are filled, in its Prof. Sterling, 25 out of 34 beds are currently occupied by Covid patients, its VP Namisha Gandhi said.
At Medilink Hospital, all 32 beds are full and Director Dr. Manish Aggarwal said that they are refusing at least 10-12 patients every day. The same situation exists in the CIMS hospital where all 100 beds are full. Director Dr. Dhiren Shah said that currently there is a waiting list of 20 patients who want to be admitted. He said, "We are in a dilemma due to this new testing policy. We are getting many such patients who have to be removed because we cannot wait for long time for Covid patients with good conscience. Despite this waiting list, We are rejecting patients every day. We are denying suspicious cases so that we can accept serious patients first.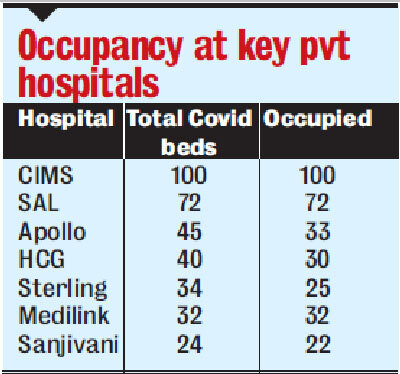 Business in major private hospitals
In HCG, there are 40 Covid beds, 30 of which are filled. Dr Bharat GadhviThe regional head of HCG and the president of AHNA told the Mirror, "The system needs to be changed. Larger hospitals that are non-Covid hospitals also need to be pivoted and accepted to patients as those are out of existing capacity. We are replacing at least 3-4 patients every day which ideally should not happen. "
The issue with the notification, doctors said, is the government's ironic stance that is pushing more patients into hospitals just weeks after sending all patients back to domestic isolation.
Dr. Mona Desai said that there are not enough beds for the expected inflow of suspected patients, even if one considers only those whose relatives tested positive for Covid-19. AMA chairperson Drs. Mona Desai told the Mirror, 'Private hospitals cannot provide all their facilities for Covid. Where will non-Covid patients go? The government will also have to think about them. We are asking everyone that the test criteria have been relaxed for not meeting the current criteria. "
The AMA has written a second letter to the Principal Secretary of Health regarding this, Drs. Desai said that the association may have to knock the doors of the High Court again to take a decision in the case.
We are in a dilemma due to this new testing policy. We find many such patients who have to be removed because we do not make Covid patients wait long with good conscience.

Sources in the health department said that the authorities had sought time to think over the matter before making any changes in the testing policy mechanism. When the Mirror spoke to the Chief Health Secretary on Friday about the issue, he had said, "We are discussing it." The matter is biased, we will call. The Mirror tried to reach her again on Saturday, but was not available for comment.
The Mirror also spoke to two trust-based hospitals. In SMS Hospital, 130 patients with a capacity of 218 beds are admitted. Jeevraj Mehta Hospital has 48 patients against 85 beds. However, patients in both of these hospitals are referred directly by the civic body.
Ahmedabad Civil Hospital has a 1,200-bed Covid facility, which until June 6 has occupied only 800 beds. Superintendent Dr. Jayaprakash Modi. However, a senior official said that there is a need to reserve some beds in government hospitals.