Mumbai
Maharashtra: Now, civic bodies, collectors can hire private ambulances at fixed cost
Mumbai: Three months into the epidemic, the state has come up with an ambulance policy to regulate its charges and address the problem of shortages. Primarily, the policy will empower corporations and district collectors to rent private ambulances for Covid patients at a cost determined by the Regional Transport Authority (RTA).
In addition, the policy will play an important role in tightening the price cap on ambulances introduced by the RTA in 2014, but did not apply in letter and spirit. According to Dictate, an advanced ambulance with a life support system cannot charge more than Rs 1,190 for 0 to 25 km or two hours and Rs 25 extra for every additional kilometer. Similarly, an Omni Ambulance can charge Rs 650 and Sumo Rs 840 for the distance.
Health Minister Rajesh Tope told TOI that this decision will solve the problems faced by many patients. "Civic heads and district collectors can make it necessary for private ambulances registered in their area with the RTO. These ambulances will be made available to the public free of cost and payment will be made by the local body to the ambulance owner, as per the RTA fee. A detailed notification will be issued on Friday, "Tope said, adding that any complaints of overcharging will be dealt with seriously.
Although civic officials have said that the city has more than 650 dedicated ambulances for Covid patients, at the peak of the outbreak, they faced heavy difficulty to find vehicles to haul between the hospitals. The TOI had reported accounts of people who had to pay up to Rs 30,000. As thousands of private ambulances took to the streets, BMC had to convert several feeder buses into ambulances to transport stationary patients.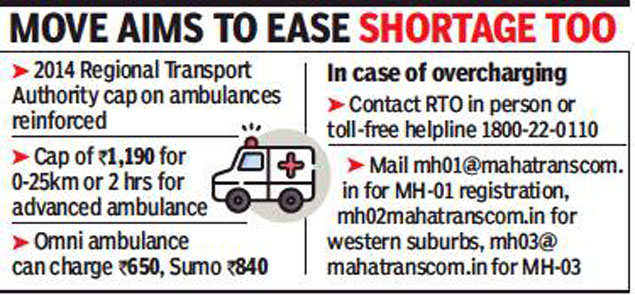 Under the government-approved policy on Wednesday, local officials can either go for a package deal with drivers, fuel and maintenance costs, or simply rent vehicles and drivers through public agencies such as MSRTC and BEST Can arrange for Importantly, the RTA will decide whether local authorities will pay private ambulance owners.
"This will completely solve the ambulance shortage problem. They can be deployed from ward-level war rooms and used to transport patients from home to hospitals, "said Sudhakar Shinde, CEO, State Health Assurance Society, who was instrumental in formulating the policy. State officials have said that they should come in contact with the ward level helpline or 1916 for ambulance, not directly. All the ward level offices will have 10-15 ambulances at their disposal.