Pune News
Civic body mulls proper housing for all slum dwellers
The Municipal Commissioner says that learning has come from Covid-19 EpidemicIn most cases, emerging from vivis; To compete any Future outbreak, PMC is considering developing housing itself, preparing various options and calculating expected losses.
Pitting the country in the unprecedented COVID-19 epidemic, Pune has unfortunately emerged as one of the cities to host a large number of cases. And, of these, a large proportion of the city's slums are reported. But deployment of significant resources and funds to handle the situation in these areas, Pune Municipal Corporation (PMC) is now looking at a more long-term solution – complete elimination of slums overall, providing individual housing plus toilets to its residents, a new step on the existing Slum Rehabilitation Authority (SRA) scheme. This, officials say, could not only be helpful in combating the ongoing epidemic, but a similar outbreak could occur in the future.
At this time, PMC has noted 8,062 COVID-19 positive cases since March, of which 80-85 per cent have the worst case of Bhavani peth, Mangalavar peth, Tadiwala road, Parvati petha, Janta Vanshat, Yerwada, Vadarwadi. Huh. Gokhale Nagar, Patil Estate, Ramtekari, Bopodi, Ambedkar Vanshat and more. There are a total of 564 slums under PMC, of ​​which 353 are notified and 211 are non-notified.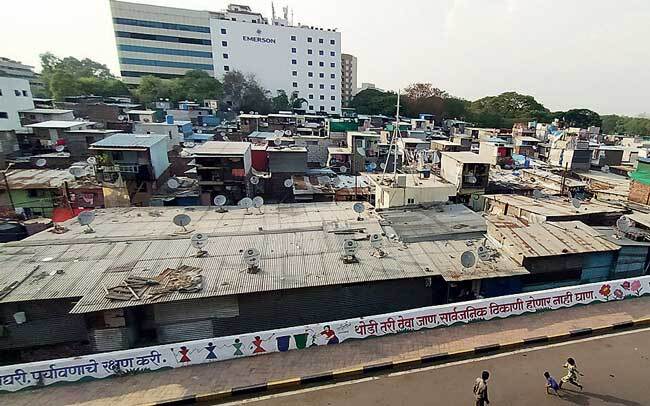 Going forward, this is the root of the issues on which civil authorities want to focus. Their goal is to build toilets in independent homes for slum dwellers, which are not to be shared, whether these houses are built by developers or slum dwellers themselves through housing societies.
PMC chief Shekhar Gaikwad, who is implementing the initiative, is developing various options, as each slum is unique and options about housing planning will need to be given to its denizens. "We have come up with options keeping in mind the public view. If we asked them to make plans for the houses, they would demand roads, personal toilets, parking and other facilities. Gaikwad said that a balance between what the administration and the region can provide the aspirations of the residents is important.
The ambitious plans looted include the local bodies themselves developing slums instead of having to hire a developer for the SRA. Land owned by the PMC can be leased or handed over to the housing committees of those living on sale; Another option is giving slum owners ownership of that specific property to facilitate the housing process. Previously, slum dwellers were charged a premium for development, but the PMC says that now slums can be developed one by one, including construction. In addition, all slum dwellers will be given houses, even if they are authorized or unauthorized residents.
Gaikwad said, "The whole concept will be ready in 8-10 days, after which I will put it before the PMC general body and stand The committee. We have spent a lot of money and resources to take COVID-10 – after it is over, our citizens should not go back to the same dirty living conditions using the same public toilets. There should be an end to this problem – a permanent one. We are also studying the costs of this initiative and the PMC will suffer. "
Discussing the problem, PMC health chief Drs. Ramachandra Hanakare said that they find it particularly difficult to deal with the overwhelming majority of slum-settled COVID-19 cases. "The closely packed nature of homes spreads infection very quickly. We have had to develop quarantine facilities to avoid this spread. For most people in these areas, home quarantine and isolation are also not possible – even for people with mild symptoms – as many of these homes are too small to accommodate it. "
Welcoming the ambitious decision of the PMC, public health expert Drs. Subhash Salunke, who is the chairman of the Maharashtra Communicable Disease Prevention and Control Technical Committee, said, "If local bodies develop this kind of housing, it will lead healthy lives for thousands of people who are currently in a dirty environment, poor sanitation. And at risk of air and waterborne epidemics due to hygiene. It has now become a national phenomenon – most cases of COVID-19 are being found in slums across India. Investment in health is a positive step and providing such housing will benefit many citizens. This will reduce morbidity and mortality due to diseases. Homes with proper ventilation, lighting and hygiene will go a long way in fighting this outbreak and any future."