Lifestyle
The Proper Way to Remove Laminate Flooring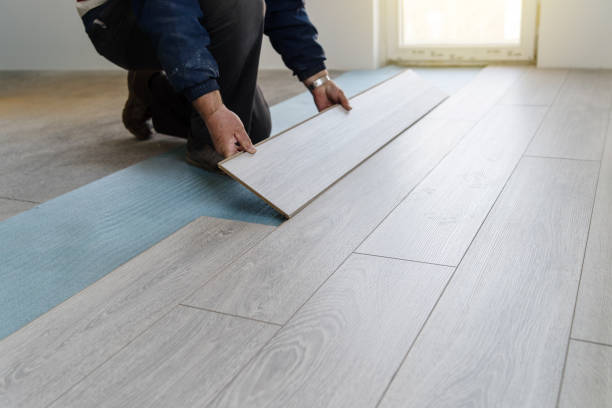 When you decide that it's time to get new flooring, you have to consider how you're going to remove the existing flooring. Learning how to remove laminate flooring can be a chore. To ensure your new floor looks as aesthetically pleasing as possible, there is a process that you will want to follow.
Use the Right Tools
While you may want to take the DIY approach to save a dollar or two per square foot, you'll want to make sure that you have the right tools. Otherwise, you may damage the flooring to the point that it will end up costing you more to fix everything.
You will want to have:
Pry bar
Pliers
Orbital sander
Floor scraper
The pry bar that you use should have a straight edge on one end and a claw on the opposite end.
Assuming that there is glue on the backside of the laminate flooring, the orbital sander and floor scraper will be used to get all of that up. If you don't get all of the glue/adhesives up before laying new flooring, it can cause a rough surface and prevent your new floors from lying flat.
Prepare the Space
Whether you are working with an office, a showroom, or even a large lobby, you'll want to prepare the space before you begin removing laminate flooring.
Empty the room of all furniture. Anything that is still in the room will only be a hindrance.
You will need to remove all of the baseboard trim. If you are tossing it, you don't need to be delicate. However, if you plan to reuse it, you will need to be careful throughout the process. You'll also want to come up with a numbering system, so you know where each cut/piece goes when you re-install it.
Once you have everything out of the room and the trim is out of the way, you can begin removing the laminate.
The Process for How to Remove Laminate Flooring
Many of the DIY shows will be deceiving. They make it look like removing laminate flooring is an easy job – and it is if you're a professional. Unless you have flooring experience, it can be quite overwhelming. And the larger the space you're working with, the more overwhelming it can be.
All transition pieces between the laminate and other flooring types will have to come up. Depending on how these were attached, you'll need to use a prybar or a drill to remove the screws that are holding it in place.
Remove any U-tracks that are set up for the transition pieces.
Begin lifting up the flooring with a pry bar starting at one edge. Work your way to the other side of the wall. Then, repeat.
As you lift up the flooring, it may peel away easily. If it doesn't, you'll have to stand up and use some leverage. The boards may break apart and splinters may fly off. As such, it's a good idea to wear gloves as well as eye protection.
You'll also want to look at the condition of the subfloor. If there's adhesive, you'll want to use a floor scraper and/or the orbital sander. If there's a lot of glue that is being stubborn, you may also choose to use a heat gun to soften it.
In the event that you are too rough with the pry bar, you may pierce through the subfloor. If this happens, you'll need to make some repairs before you attempt to lay any new flooring.
What Happens If I Can't Remove the Flooring Manually?
If you don't want to remove the flooring manually (or you're struggling with getting the planks up using a pry bar), you have a few more DIY options.
The first is to use a motorized floor stripper with claws. You can rent these, though they can also be expensive. It's also important to know that the laminate flooring will be destroyed, so it cannot be reused anywhere.
The second is to use a skill saw. You can cut down the middle of each plank, which will help to break up the adhesive. Then, you can either use pliers or a chisel and mallet to help get under the edges of each plank.
No matter what, the laminate flooring removal is going to be a task. Especially if you don't know anything about the subfloor or whether adhesive was used, you'll want to exercise caution.
Work with Professionals
If there's any damage to the subfloor or you fail to remove all of the laminate, you may not be able to get the desired effect you want with your new flooring. Installation is highly dependent on your ability to remove the existing flooring. If you fail at removing laminate flooring, it can cause your new flooring to peel up and experience other issues.
Particularly when you are laying commercial flooring, there's a significant amount of square footage to deal with. Rather than taking the DIY approach, it can be more effective to work with a professional flooring contractor. This way, you don't have to worry about how you're going to get the flooring up – or where you're going to rent the necessary tools from.
At S&R Carpet and Floors, we've been working with flooring since 1979. We have the means to remove any existing flooring and install new laminate flooring down efficiently. We'll ensure you get durable, long-lasting flooring that is capable of looking good while holding up against all of the foot traffic your location gets.
Our professionals see to it that we take good care of your property, whether it's commercial or residential. We have dealt with every type of flooring there is, so if there's an issue, we'll know how to address it. And, you won't have to worry about being a DIY expert, either.
When you want to learn more about how to remove laminate flooring and how we can help with the process, call us for an estimate.